Blender is true to its name at least with respect to forever mixing up1 its API so no exporter you ever write can work reliably for more than one frozen Blender version. I had already some experience with this back in 2017 when I was still naively thinking that it really is the lack of direct path from Blender to CS that keeps all those supposedly eager artists from contributing anything at all to Eulora's client. At the time the plan was to pick one Blender version and actually support that fully. Meanwhile, experience informed that the whole pile is rotten in all the places where one cares to look, from a weird sort of anti-management at the top to a full embrace of Python's own wrong choices, ant-like overspecialisation and overfitting of artists and the resulting impossibility of any productive work coming through meaningful interaction from those quarters. And given the stark choice at the beginning of this year together with the return to Eulora's 0.1.2b client as part of a wider return to pragmatism, my new take on Blender's blendering is to simply look at potential options for setting out one *working* path for *extraction* of assets to the extent that this is even feasible, more like a way of *interfacing* at most, rather than supporting anything anymore2.
Taking the simpler route of interfacing and extracting rather than supporting anything, I had a look at existing graphics formats and existing exporters for various tools in which the overspecialised merrily toil at one thing or another. There are of course the specific formats of each of those tools (e.g. Blender has .blend3, 3D Studio Max has .3ds, Unity has .unity, Unreal has .unreal), as well as various attempts of all sorts to define some "standard" format. For all those standardisation attempts though, the end result really seems to be more of a "everyone makes their own format" than any sort of standard so that there's no lack of formats to look at, if one really wants to review the whole mess. For instance and to go through only a brief list: .x3d and .x (vrml) are xml-based and supported by the Web3D Consortium so potentially with working exporters perhaps although unclear if fit for purpose (and spec is quite large since it wants to supports all sorts); .ply focuses on one object at a time described as a collection of vertices, faces and corresponding properties; .dae builds up on the older collada format and it's xml-based again without any clear gain compared to .x3d; .obj supports geometry only; .dxf seems mostly fit for CAD systems and it has by now so many versions since its beginning in 1982 that it's even dubious to call it "one" format really.
At any rate, in addition to the above, I further looked at quite a few other formats, from the ISO/IEC 86321-1:1999 standard (revised and confirmed in 2016) that is better known as CGM4 to the binary, proprietary and quite widespread5 FBX6, IGES7 and its contenders (e.g. sat, catia, step, parasolid), as well as the newer OpenGEX 2.08 that seems at least to have been designed out of practical necessity combined with frustrating experience with the state of Collada and glTF. Can't beat such root causes as far as I can see it and the result is quite comprehensible and sanely documented too with some plugins provided for 3D Studio Max, Maya and Blender. So off I went and tested the Blender plugin, what's there to lose for some tests anyway?
To start with and since I was getting into Blender again, I had a more systematic look this time at the various versions of Blender9 & Python: it turns out that last Blender version using Python 2.x is Blender 2.49b that is also the last version of Blender that ships without its own Python so that it uses (rather: attempts to use) whatever is installed locally; from Blender 2.5 on, it's Python 3.x that comes also packed within the .tar.gz10 so at least relatively contained aka without requiring further infection of your environment11 with an actual installation of Python 3.x. Summarising, the current status of Blender & Python versions12 that I looked at13:
Going further with the practical tests, I settled on Blender 2.72 since that was the one for which the OpenGEX exporter was made to start with and I don't see all that much to be gained by going back to Blender 2.66 or something since Python will still be 3.x and otherwise what's the big difference anyway. The exporter is simply this OpenGex-Blender.py file and it installed without error from within Blender, quote my notes: File->User Preferences->Addon->Install from File + navigate and select the .py file; it goes into Import-Export and it NEEDS to be ticked to activate.
To see the exporter in action, I had first an attempt to model some basic character as a way to know exactly what is in there before looking afterwards at what gets exported. So I followed some tutorials for Blender and I even got to obtain a sort of head of something but it bored me out of my skull and with such intensity as I haven't experienced in quite a while, so that I exercised more my self-control than anything else. While most of the issue really is the activity itself, there was the added and steadily increasing annoyance at what seems to be the "blender-approach" of basically having to remember a set of arbitrary shortcuts for doing this and doing that15.
Given that the point was after all to test the exporter rather than my full patience to the extremes, I left my "model" in its half-made state and simply downloaded some .blend files that are apparently abundant under "creative commons, personal use" only with all the bells and whistles that one might wish for. It kind of boggles the mind that the same people who are not interested apparently in doing some work for gaining something are nevertheless happy in such numbers to do possibly even more work just as long as it's branded "for personal use". Anyways, confronted with a whole set of animated characters looking quite nicely even and ranging from furry spiders to aliens, I just picked one at random, downloaded the .blend file that weighs in at 34MB - it has a ton of polygons too so not exactly a low-poly shape at all - and opened it up in Blender (it reports 171 bones in this alien), obtaining a view of both alien and helpful notes of the author, Dennis Haupt, on the side: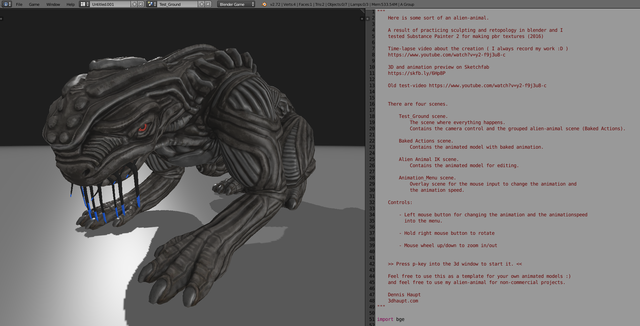 Some playing around with the model revealed among other surprises that the alien is rather hollow inside although nicely textured nevertheless so supposedly that's just how alien overgrown cockroaches develop, with the teeth visible through their bottoms, let me illustrate with a view from behind the thing: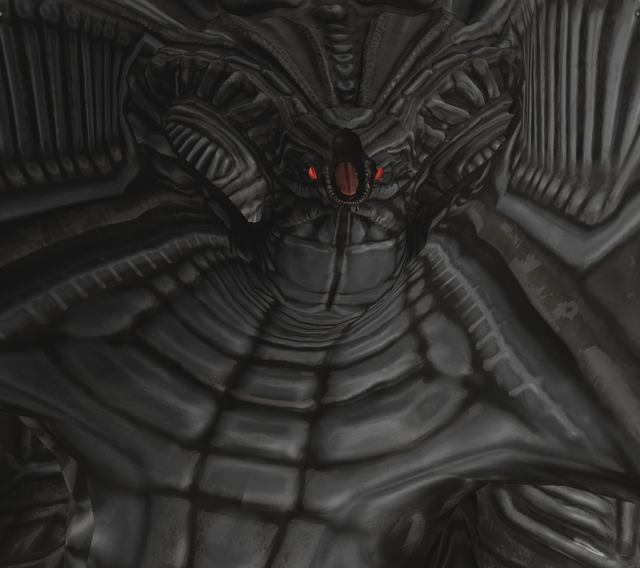 Hollow or not, exporting it went quite smoothly: a simple File->Export->OpenGEX + selecting the location for the output file resulted in one single file that proved quite readable as a description of the "scene" but at the same time missing entirely all sorts (animation most obviously). This was not entirely unexpected but more of a test - there's this annoying thing that what the plugin exports depends on the "scene" that you have selected to see in Blender16 and since the default scene for this Alien was not the one containing the animations as such, they were not exported.
For take 2 of the export test, I switched the scene to "Baked Actions"17 and run the exporter again for what proved to be a slow and painful ride: it took some 30 minutes during which Blender was unresponsive as the exporter worked and at some point the whole system was unresponsive too for a while. At any rate, the result of this take 2 was another .ogex file weighing however 41MB . A quick look at it revealed the sort of expected sparse values thing: all the bones and materials and animations but with lots and lots of 0 values, what can one do.
Since I did 2 exports, might as well do the 3rd one on the remaining scene, namely the one containing "the animated model for editing". This took about 5 minutes although it still blocked Blender for most of that time. The result was yet another .ogex file ~8MB in size. Bones, materials and animations seemed to be still in place but more condensed - presumably the animations here contain only the various poses as opposed to intermediate steps or at least this is my current understanding of it all as I haven't sunk in that much time to fully figure it out since it's not yet even clear if this is going to be useful at all going ahead. There was no error reported on any of the 3 runs18 and the .ogex files as far as I could see appear well formatted and complete so I'd class the exporter as working - as in it does what it knows how to do, although the extent to which that is useful depends of course on the as-yet-not-fully-specified what one wants it to do exactly.
Being at testing stage, I went ahead and attempted to export the same alien with the x3d exporter that Blender ships with. This was quick and resulted in all the usual glory of an xml file but exported only the lights and transforms from the scene that supposedly contains "the animated model for editing". So yeah, the result of exporting even from the same scene will of course depend on each specific implementation of an exporter, not like there's some way to standardise that either.
In addition to the above, my notes mention a few tests with some glTF exporters but those failed with some complaints about materials not set as it expected and otherwise a final error spew in the console. It still produced as output a few .png files for textures but I didn't really sink more time into looking in any more detail at this. Moreover, it would seem that one can just get the same assets directly in something other than .blend format if going for the formats for which Blender supposedly ships directly with exporters. So I just weighed the files19 provided for various formats of this same alien directly from where I downloaded the .blend file though be warned that a comparison is not straightforward here since each "export" will contain different stuff really:
.dae (3.32MB .zip)
.x (1.53MB .rar)
.fbx (24.7MB .zip)
.unitypackage (31.46MB .zip)
.3ds (0.7MB .zip)
.obj (1.11MB .zip)
.dxf (2.78MB .zip)
.blend (33.65MB .zip)
To conclude this adventure with Blender, exporters and various graphics formats, I'll only add that the OpenGEX format is at least well structured20, easy to follow even with the naked eye and otherwise apparently having a working exporter for Blender 2.72 if not for anything else (I doubt it's really *possible* to have an exporter working properly for more than one version of Blender unless literally changing it to accommodate each time something else gets blenderised yet again).
Looking at the above from the opposite side though, it could equally well be argued perhaps that one can then go directly for extracting stuff out of the .blend format, relying on that metadata that ensures compatibility across various Blender versions and bypassing the Blender environment and its Python mess altogether. After all, if it gets to cutting idiotic knots, might as well go for a more crucial knot and be done with it. Just use a bigger and sharper sword if you get into sword wielding anyway, right?
---
Comments feed: RSS 2.0