Scratching that itch of a more useful visualization for a given set of patches, I've added to VaMP a view aimed at the more important people in a patch's life: its readers! This new view focuses on how a code evolves when/if various paths of patches are pursued (or not!), showing the different possible states of the whole codebase and how they are linked through patches. As a result, this new, code-centric rather than patch-centric view helps the reader to place a patch in its context, easily gain some idea as to its role as part of a whole and know at a glance where to start looking for the relevant code context beyond what the patch itself includes. By contrast, the legacy view focused on how the patches were related to one another without much regard for the code as a whole at any given time1. In short, the legacy view is what the *machine* needs in order to link patches correctly, while the new view is what supports *human* comprehension of a codebase as a whole, carving quite explicitly and one small step at a time, a place for people to contribute and collaborate, supported by machine automation but not replaced by it in any way.
Another way of describing the new visualization is that it puts patches where they belong: as links between two states of the codebase and as such merely potential paths (to take or not) or even alternatives to pick from, but certainly never some sort of central focus or all-important parts on their own. Yes, this view pushes the reader's needs and the codebase *as a whole* to the forefront at all times, while relegating changes to the code aka patches (and their writers) to a more humble and supporting role, to better reflect reality: any changes to code are at all times merely proposals and should be seen as such, not as impositions2 and all patches effectively compete with one another for readers' acceptance but no patch is ever all that important on its own or even in a group, whether that group is shaped like a tree or not. A patch becomes important (or not) through its readers, not its writer(s) and informed readers need more context than the very narrow and limited part that may be included in a patch.
As illustration, have a look at how the same set of patches is shown below, first in the legacy view (patches as nodes of the graph and arcs unlabeled) and then in the new, code-centric view (codebase states as nodes of the graph and arcs labeled according to the patch that they represent):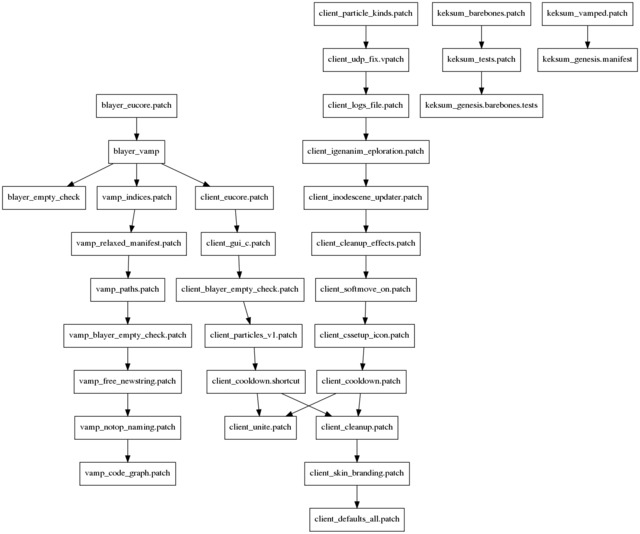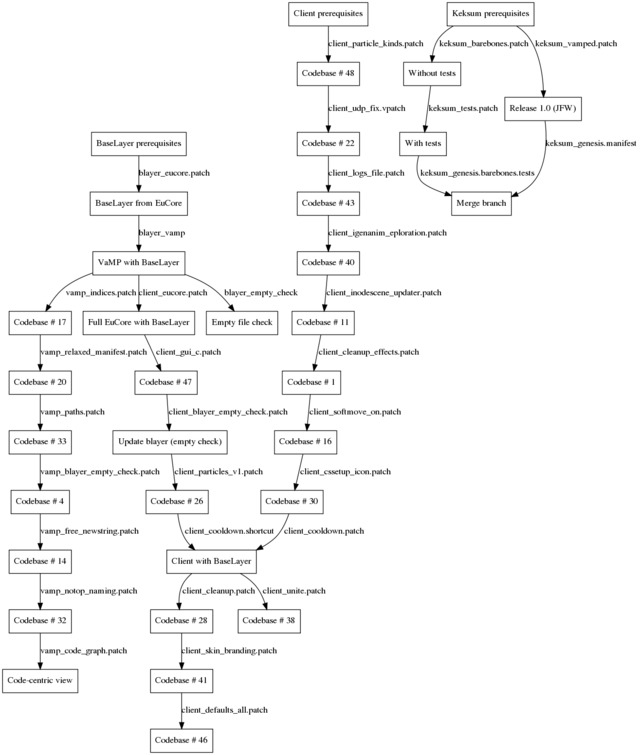 While most of the trees flow quite neatly even in the first image above due to VaMP's strict guarantees, there are at least two spots in there that look dubious at least: the first is the crossing dependencies between client_cooldown.shortcut, client_cooldown.patch, client_unite.patch and client_cleanup.patch; the second is the keksum tree that seems split into two components that are not linked in any way. If you check however these same parts in the second image above, aka the code-centric visualization, you'll get some better idea of what happens in fact to the code in each case. The two client patches (client_cooldown.shortcut and the client_cooldown.patch) perform a merge of two different branches of code, while the two "components" of the keccak tree represent in fact alternative paths of the same release!
None of the above is clear in the legacy view though, simply because there is no way to even show in there anything about the prerequisites of a root patch (implicitly assumed to be an empty directory, as if that even made much sense) or the results of a leaf patch (implicitly assumed to be fully defined by the sequence of patches leading to that leaf but pushing the burden of any actual checks on to the user). Since VaMP is by design loudly explicit, rather than quietly implicit, it can also show in the code-centric view both pre-requisites and results of any patch, whether root, leaf or anything in between. As a further gain, the user of the visualization can even add helpful labels to each state of the codebase so that the whole becomes more readable indeed and the names of the patch files don't end up as the sole providers of anything human-readable in the whole graph. The states of the codebase are uniquely identified and listed conveniently in a text file that the user can change as they see fit, with VaMP helpfully preserving any given labels between subsequent runs and otherwise providing some default labels where the user doesn't care or hasn't yet provided anything else.
Moving further, I plan to expand on this to further support reading, comprehension and discussion of patches in their full context. This code-centric view has been already very useful for me to get an initial overview of any set of patches but I see it otherwise as only a first and still very limited step towards a more human-friendly way of interacting with patches so that the incentives for balanced collaboration are correctly aligned for all levels of writers, readers and publishers of patches, too.
---
This was due first of all to the limitations of the older "V" which had no notion of a whole codebase as such, nor ways to provide any guarantees as to the output of a patch. VaMP does not suffer from such limitations, so it can and does push for a more useful visualization, too. ↩

Whether under the guise of "security updates", "must-have upgrades" or something else, the currently widespread practice really is built precisely on the idea of forceful imposition of any code changes. Not that there's anything inherently wrong with enjoying imposition either, if that's what you like. Just call it by its name instead of pretending it's something else, don't expect everyone else to have the same enjoyments as you and, even more importantly, don't try to discourage the young from even finding out that there are valid alternatives to the path you are on yourself. ↩
Comments feed: RSS 2.0