As I really have too little time to waste any of it on fretting about how to start on things, I just picked Dev.to as the first online place to explore in search of young hands that grow from their right place and not from arse1. The choice was quite arbitrary really - it popped out on my unordered list as a relatively lively place and it uses GitHub old accounts so at least I did not have to make yet another "account". As a result, I now have in there too, that same old end-of-uni photo of mine that GitHub also has but so what. Anyway, to start it off, I gave them some content for free, sure, what's a few paragraphs to me now, here it is:

Come work on what matters, so you matter too.
I'm part of TMSR - the place where well-thought Bitcoin innovation happens steadily, publicly, unfashionably and with inescapable, far-reaching consequences. From a new model of software development to a MMORPG and building up a working market for computer artists plus everything software and hardware in between, the focus is at all points on owning what you do and growing your knowledge and ability at a sustainable pace.
The programming language of choice is Ada (with a fully-documented rationale as to why Ada) but work with legacy code includes C, C++, Python, Lisp and potentially anything else really.
Come work with me on things that matter, if you want to matter too. I write (and have been writing for a while) at http://ossasepia.com
The post above quickly got a few "hearts" and so far (1 day later) precisely no comments at all. Apparently love is easier to get than conversation, did you ever notice that? And what does it actually tell you, hmm?
The easy love aside, I didn't really wait (or expect) for any conversation to actually start from my first post, no matter what I'd have written there2 and so I just started looking around at the whole thing instead, trying to figure out its structure and therefore some way to *systematically* explore it. That quickly bumped into the obvious fact that the whole thing seems rather on purpose built *against* systematic anything. There are tags for instance to group supposedly by interests the content and you can "follow" tags even with "weights" attached but you can't see ALL tags (I know because I asked them, right there, in the "hello" thread, yes). You can see "the top 100" tags and supposedly that should be enough for everyone, screw the unpopulars, apparently I'm not supposed to be able to find them even if I am willing to go through as many tags as it takes to precisely reach them too! There are also profiles of course and you can "follow" those too but again, no way to actually see a list of them and be able to just go and talk to each one, no. Gotta try and map the space through the conversations that they feed you (literally, it's a "feed", right?) or otherwise go pretty much by chance, here and there, looking under each stone in search for people nowadays. Oh, and the platform is some Open Source pile of code, of course. Anyways, doesn't it strike anyone as really weird this thing where precisely online stuff that is by its nature exactly fit for systematic organisation and access is instead by design anti-systematic? Note that it's not just a matter of "offering also a fuzzy path to follow" but rather limiting the option to that and nothing else.
Anyways, 100 tags at least are better than none, so I started reading from there, for lack of any other better strategy really. Reading3 and commenting of course, since the whole point is to engage with people, what else. So after a few hours yesterday reading and commenting around there, here's how my dashboard on dev.to looked like: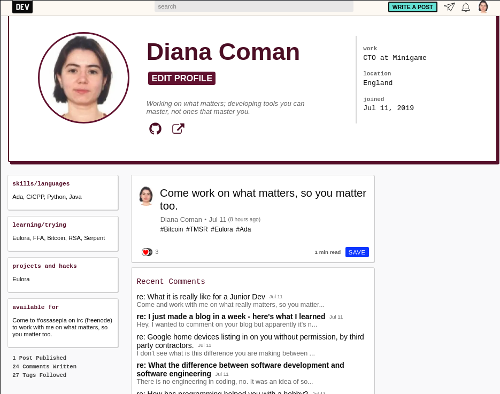 Looking at the numbers this morning (after another 15 minutes spent on dev.to), I have: 1 post published (with "under 100 views"), 29 comments written, 10 "followers" and 4 "total post reactions." Hopefully I find a way to get faster at this as I do it more since I can't say I really have as much time as the current rate promises to eat up.
As for people actually following on what they said and making their way to irc and/or to this blog (or Stan's, since there was one DrBearhand whom I pointed towards FFA), I'll believe it when I see it happening and not earlier. But in any case if those I reached already fail to actually act on their own words now, it's their failure and nobody else's anymore, certainly not mine - from here on, it's on them entirely. What do you think the actual rate will end up like, 1 in 100? 1 in 1000? 1 in 1mn?
---
I suspect I'm getting old really, there's no other explanation for this sort of lack of silly expectations here. ↩

Really, having read lots and lots of legacy code prepared me for everything and anything, there is that. ↩
Comments feed: RSS 2.0