Costa Rica is this enchanted land that has it all: balmy1 weather, sunny skies, warm waters, lush hills and heady mountains, cheeky monkeys and cute crabs, the friendliest people you ever saw and a very good dose of pura vida. This pura vida is the locals' own version of happiness, honey and spice and all the things nice and it really looks quite like this: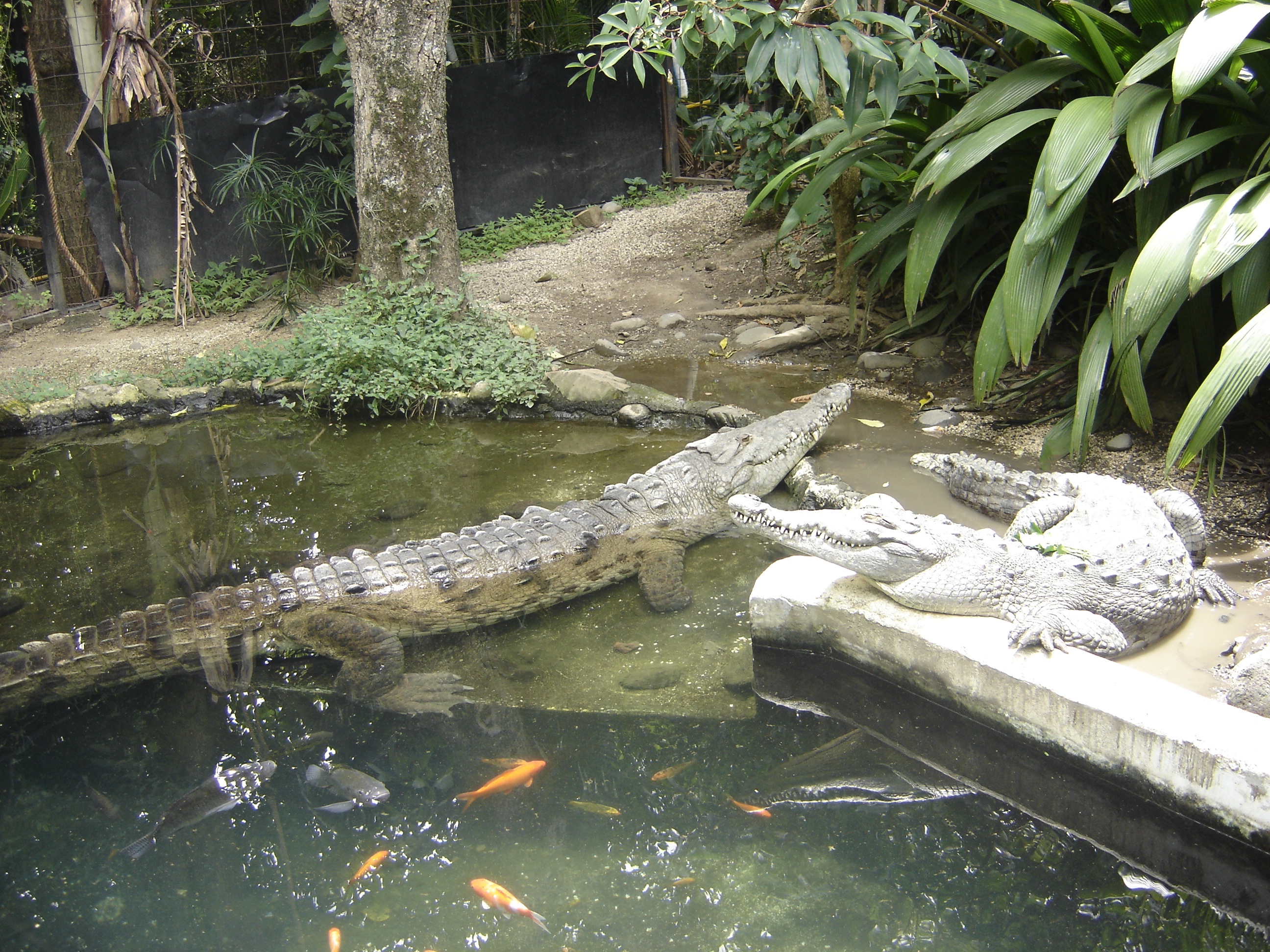 There, have you ever seen that wonder before? The very smiley crocodiles of Costa Rica! And not only very smiley, but very friendly too for they won't eat those fish that swim - happily, pura vida! - around their tails. It's true that the smile is just a way to soak in more sun and it's true that fish are simply not worth the bother for those two very full crocodiles. Nevertheless, just try and convince those fish of such ugly thoughts and that crocodiles aren't really just being friendly and nice and good neighbours and all that - you psycrocopat!
Fish aside, if you look carefully at those tico crocodiles, you might notice also something else: the one on the shore has a rather short tail and the one in the water is missing the front paws entirely, now how could that be, how could such horrible things happen in this land of beauty, calm and sunshine? Well, they didn't happen through malice and ugly intent, no; they happened through... ineptitude, ain't that much better? In short, one crocodile insisted on fighting with those who were better at it and a bit of tail lost here and there did not make it change behaviour for it couldn't possibly change - it just was. The other crocodile kept eating some farmer's cattle and the farmer was very friendly and humane so he didn't kill the crocodile - he just chained it so well and so competently that the chains entirely destroyed its front paws essentially ensuring the crocodile would starve left by itself as it can't really swim properly anymore and it can't really move much on land anymore either. Don't you love those kind hearted people that won't kill an animal even when it's a pest?
Happily though, Costa Rica certainly has much more than crocodiles and it turns out I really actually quite like its birds, from owls and mini-eagles to tiny parrots. For they are not even just any birds really but the most curious and rather intelligent birds - some would literally come to check you out, to see for themselves from up close this weird huge bird that won't fly and is not even coloured properly with some real contrast! And even from a cage2, one toucan bird came to say hi and have an upside down look, perhaps that way it might - who knows! - make head and tail of me: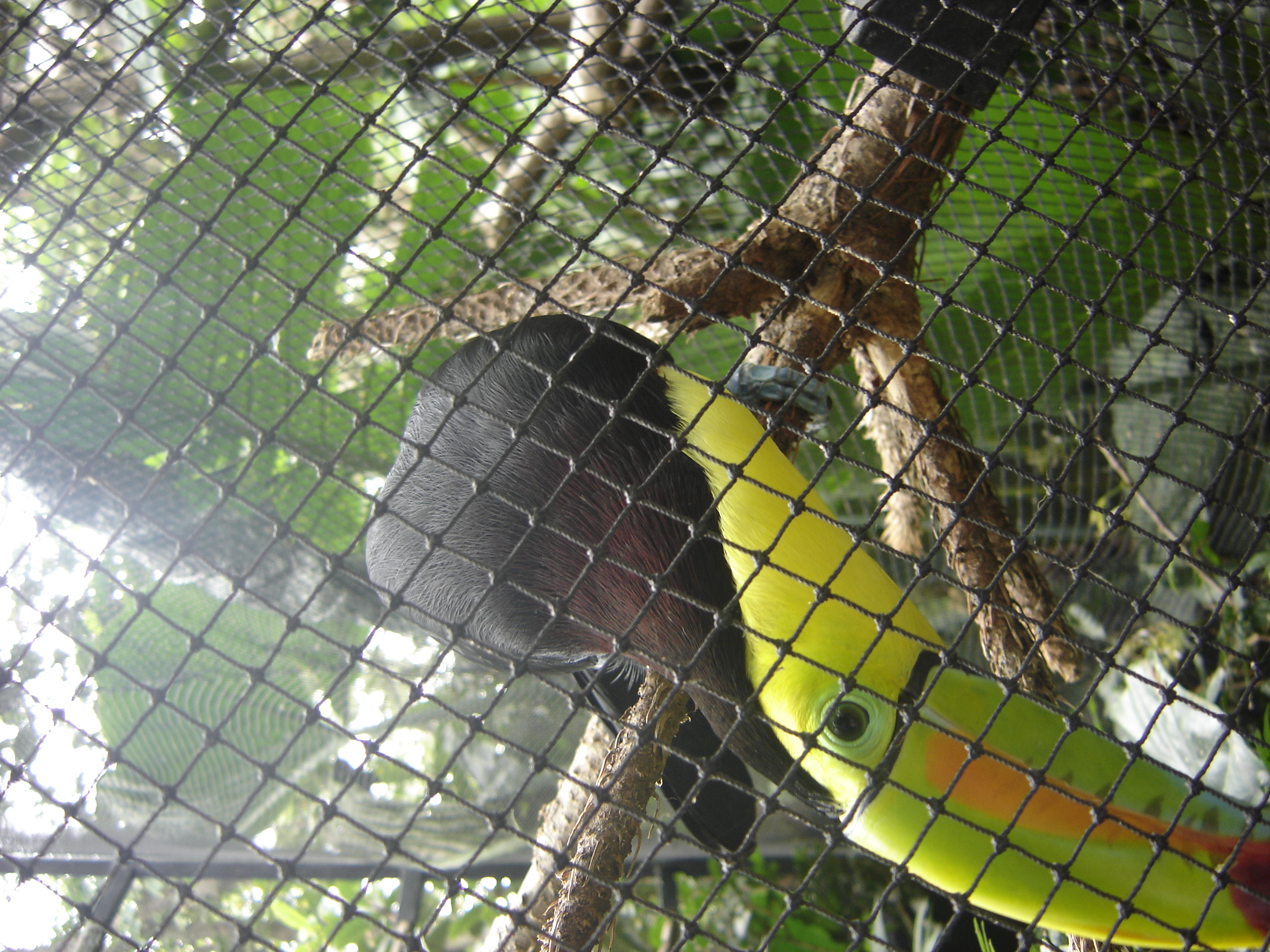 When speaking of animals of Costa Rica, one can easily go on for ages. There are also owls of various sorts and macaws and parrots and snakes and monkeys and crabs and iguanas and frogs and many others that I don't even really know the name of. And almost everything is either brightly coloured or otherwise well camouflaged in dull sandy colours. Tiny crabs will vanish in the sand as soon as they realise that you spotted them and small pebbles will suddenly wake up and start moving as soon as you went past them. From the trees above, monkeys will suddenly dart down and grab anything they find - whether they need it or not is something they don't bother asking themselves until after they got it since dropping stuff from high up comes at no cost whatsoever to them. From under the rocks below, iguanas and all sorts of other reptiles will come out in the morning and take their favourite place for soaking sun up. And from all sides, the ocean will brush the shore rather savagely with a strong push of breaking foam and an even stronger suck of waters back, sand and shells and anything else included. It's only in smaller, mini-gulf areas that are protected between rocks where waves are broken way before they make it to the shore so that they end up as tiny, gentle ripples only. A bit like that everywhere - in smaller, protected areas, the ocean may seem more like a little sea and the world may seem more like a fairytale.
But let's come back to the kind, friendly and totally innocent people of Costa Rica for what would the land and all the wondrous nature even be without the people! Ticos are truly friendly beyond anything you've likely ever saw - the whole country really feels more like one big village where one knows if not everyone else then surely someone who knows someone and so on until... one feels and pretty much acts like one knows everyone else. And just like in one big village, nobody bothers with street names or house numbers or indeed addresses of any kind - everyone is expected to also know where everything is or at best ask for ...directions on how to get there! So your address ends up being not a short ugly thing such as street name and house number but a long and rather intricate description of how to get there with approximate 100 metres before this and 1km towards that and past the one but before the other and green gate3 on the left but not first but second! And you'd think given this habit that they would have at least the basic idea to keep gate colours as diverse as possible at least within short distances or if not that then the pride to make each of their houses properly stand out with some crazy, unique and obvious - even monstruous if need be - thing at the gate! No, not the friendly, innocent ticos, why would they do such a thing? So no, not much in terms of specific or unique for houses and no attention whatsoever to street names or numbers even when they exist. For everyone knows where everything is and directions are just as good as addresses, remember?
Weirdly enough, the direction-instead-of-address even works of sorts - it works that is most of the time, for it requires of course a local to know where all sorts of small shops, car dealers and weird deposits actually are. If you are not a local or your driver is not a local4 then you are lost anyway, directions or no directions. And so you... ask of course and you get an answer - there's always an answer - but that doesn't mean it is the *right* answer! For you see, they want to be helpful and they won't let such small things as not being able to help stand in the way of their wish to be helpful!
At times however it's true that their being helpful is helpful indeed - especially at times when one didn't even imagine there would be a need for any sort of help! After witnessing a lot of the local traffic, I'd say I would probably need local help even with that - and in all fairness, I really preferred to rely on local hired help for all the driving. Even so, it took me some time to realise that they really honked their horn every time they came close to a crossing of roads - traffic lights or no traffic lights, it does seem in hindsight that one would do well to announce they are coming since nobody bothers necessarily with street markings, signs or indeed lights of any kind. And then the traffic jams and the unexpected turns or stops or what have you. The pedestrians walking on the motorway, the vehicles of all descriptions and no descriptions. After tico traffic, I surprised myself after landing in London since I spent the time admiring from my taxi the ordered progress of british cars along the roads - even now that I write it, I can't quite believe it but at the time it had a certain attraction given the stark contrast of previous days.
At any rate, in terms of getting one out of the trouble that is purely local, there is indeed nobody better apt than a local to help. Imagine this little wonder of a direct bus going straight from the capital San Jose all the way to Manuel Antonio national park, on the Pacific coast. Everything nice and tidy and even ordered by tico standards with seats numbered and even assigned by those same numbers - I honestly wonder why wouldn't they give the seat the same style as the addresses sort of walk about 5 steps and then 2nd on the right with the pink arm rest or something. So taking the bus from San Jose is basically no trouble at all, there's a bus terminal and a ticket station and the bus even leaves on time, goes as stated, arrives on time! But then, at the other end, in Manuel Antonio, they don't sell tickets *at all* - you need to go instead some 10km away to the little town of Quepos to buy any tickets because.... well, I don't know, apparently nobody thought that someone would actually want to take the bus back, going away from Manuel Antonio! Or perhaps tickets are really too advanced for selling in anything smaller than Quepos and what does it matter that the bus really leaves from somewhere else?
But let not any of those small details of ineptitude spoil anything for you - pura vida, remember? People are happy and friendly and monkeys are noisy and a bit of a pest and overall everything is perfect, especially as long as you don't really try to change it. Oh, and to make that clear, there is of course cultural life too and even one that depicts - rather truthfully I'd say - the local pura vida from at least one angle if a rather... obtuse angle: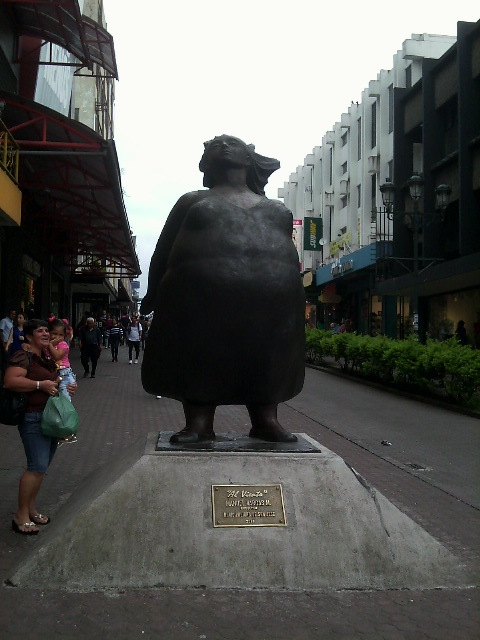 In other rather greedy recollections, there'd be of course the rum, notwithstanding the fact that it's venezuelan, not costa rican at all. But even before that and certainly more local than that, there is the cocoa and therefore the chocolate that is simply delicious. And the coffee that is so good that even I - who don't really drink much coffee otherwise - still drank coffee in Costa Rica at pretty much any opportunity without any regrets or second thoughts. A certain fig cake there is delicious and some cocktails can be enormous. Some of them really are in fact more like semi-liquid icecreams with alcohol poured in - for better or worse. The fish is always good and - if you ask them to leave the darned salt out of it - well cooked almost always. The local fruit is about 10 times better than anything of same sort I ate anywhere else and I say this although I don't really like unfortunately exotic fruit - to give you some idea, the pineapple there is simply too ... sweet for me! I'm weird like that though and other than the fact that I just don't much like those particular fruits there's otherwise nothing to hold against costa rican avocado, pineapple, mango, coconuts and papayas.
Even in spite of all the monkeys and racoons and iguanas and whatever else the jungle harbours, the best part of it all is for me the water, of course. The warm water and the sun and the sand and all that joy that swimming or even simply jumping the waves can bring. Joy I said, not serenity, for the ocean I find doesn't hold much serenity at all, not with those huge waves, not with the rip current, serenity is just not an ocean thing despite the one thousand words all sorts of pictures might still whisper: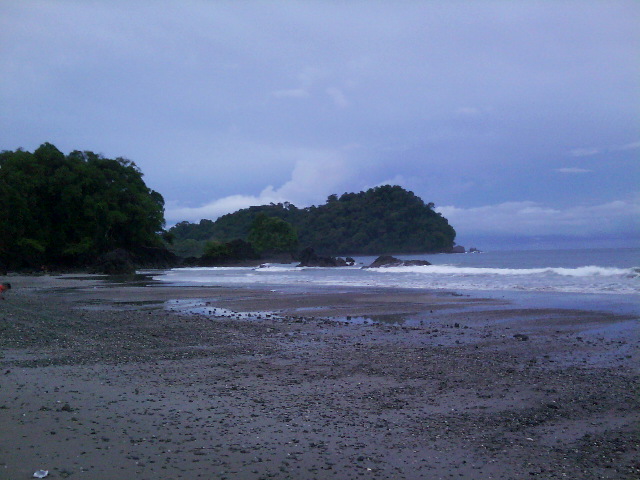 ---
Comments feed: RSS 2.0