Wandering all alone and growing quite bored of seeing the same familiar empty space, the twisted hopeful glanced all of a sudden an unexpected shiny item sticking out of the ground and in plain view: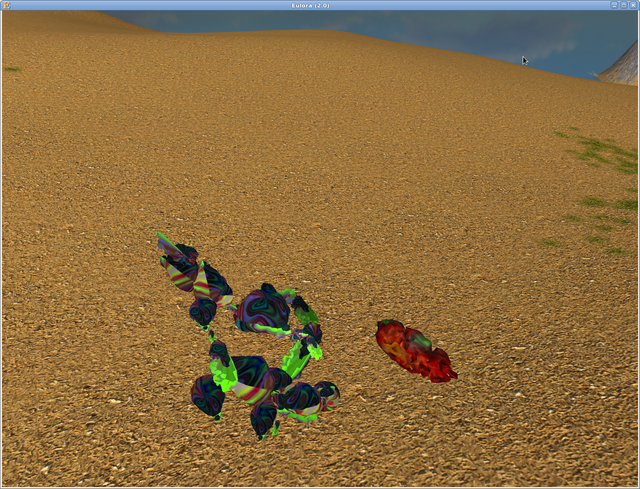 What could that be and where did it come from? It wasn't there before and there's no guarantee it will remain there either but there is now finally the possibility for any number of such items to be anywhere at all in Eulora. And now that this part is done as well, the client has finally all it needs to render -though not yet to control or interact with- all three main types of 3D things: the world itself (terrain, sky, water), moving characters be they NPCs or players (Cal3D) and non-moving items (CS meshes). In all cases, the "graphical representation" is simply a .zip file. The contents of this .zip file can change and there's plenty of flexibility in there with only a few "must-have" things nailed down for now - even those can change later on without much trouble, since a .zip file remains a .zip file otherwise and knowing how to use what is inside is entirely a client concern.
The current client 2.0 aims to look for and use what it knows, while not getting stuck on anything additional that might be in there. So it uses currently some very simply conventions regarding filenames inside those .zip archives and simply picks up the first matching files it finds inside: anything starting with "tex" is assumed to be a texture and its extension is assumed to match the format (.dds, .png, .jpg all work fine); anything starting with "mesh" is assumed to be a mesh description and interpreted depending on the context as either CS mesh format or Cal3D format (binary or xml depending on extension); anything starting with "skel" is a skeleton file; animation files are always exactly walk.caf, idle.caf (so far those 2 are the only ones the client knows about). As examples, here's what the current test set of .zip files contain:
For Outdoors (the filenames here are fixed indeed as they all have very specific roles):

basemap.png
heightmap.png
lightmap.png
materialmap.png
norm_1.dds
norm_2.dds
norm_3.dds
normalmap.png
sky.png
tex_1.dds
tex_2.dds
tex_3.dds

For Cal3D:

skel.xsf - the file containing the skeleton in Cal3D format. This can be either xml (.xsf) or binary format (.csf) and the client will simply use whatever is provided.
walk.caf - the animation to be used when this character "walks". This has to be currently in binary Cal3D format because reasons.
idle.caf - the animation to be used when this character is standing/sitting still. As for walk, this has to be in binary Cal3D format.
mesh_*.xmf - this hopeful happens to be made out of 26 meshes so there are 26 such files, simply numbered mesh_1.xmf to mesh_26.xmf. The client will just load as many mesh files as it finds, that's all.
tex.png - the texture to use on all meshes. In principle there could be as many texture files as meshes so that each mesh has its own texture. It's not a big trouble to adapt the client to use them but at the moment it just picks the first tex* file it finds and it uses it for all meshes in that .zip file.

For CS mesh:

meshfact_1.xml - the description of the mesh in CS "meshfact" xml format (NOT library format, see below the more detailed discussion why not library).
tex_1.png - the texture to use for this mesh. This can be in principle *any* graphical format. The current client can and will happily use .dds, .png or .jpg just as well.
Compared to the previous iteration, the "outdoors" type bundled together water, terrain and sky because in practical terms they always go together indeed. There is here one part that I'm still hesitating about: while the size of "sectors" is fixed and doesn't need to be therefore sent (or at least not at this level), it's unlikely that this will also match any indoor areas that are to be separate areas as such and the trouble is that the loader needs to specifically set those. One way to go about this would be perhaps to make a different type specifically for "indoors" and give all this additional information required there in the euloran object itself (arguably even the outdoors type might be better off with some specified there, if or when they may change). The main question I have here is: what is fixed about outdoors and indoors (as the cs part has a lot of parameters and very few turn out to be of any use in the end)? More specifically, given the protocol specification, the size of an outdoors sector is fixed and as a result, the client can just create a fixed-size sphere for "sky" for instance and a fixed "cell" size for the terrain and so on. Is this size fixed for indoor places too or could those be smaller/larger?
As to the latest addition from the list above, namely the CS mesh items, getting them to work included a few ugly surprises that slowed me down a bit more than I initially expected. Nevertheless, as there's otherwise less resistance left in that paste than at the initial stages, it didn't take all that much to whip it up into something useful. First, the format I had used previously based on existing client's "art" files turned out to be less than ideal for a rather unexpected reason: the CS loader would happily load it but it wouldn't provide any means to obtain directly a way to reference the loaded mesh - it assumed the caller would know that from somewhere else or otherwise find it somehow1. To fully get this: CS insists on referencing everything by "name" hence effectively by string-ids and the names of loaded stuff from a library file are ...specified in the xml but otherwise not returned by the loader itself! So to find a factory or a mesh, the code would need to either read it specifically from the xml (ugh!) or otherwise assume it matches something else through some convention forced thus by... lack of options (because no, I don't want to have the server now be concerned with fixing the names of meshes clientside, wtf). The solution I found to this is to not use "libraries" at all since anyway each of them contains exactly one meshfactory and then load that factory with whatever name there might be in the xml but *change* it from the code to the name that is useful to the client (and that's ...the ID of the darned object, ofc, what else, only made into a string to fit CS's expectations, yes). It took a while to figure this out, mainly because finding the way to simply rename things is made... interesting by means of Object Oriented (OO) obfuscation layers so that the code can end up at times like this: meshWrapper->GetFactory()->GetMeshObjectFactory()->GetMaterialWrapper()->QueryObject()->GetName(). Count the layers and laugh at it but know that it's not even the worst that OO can do!
Once the above sorted, there was some more work to cut that GEM crap on items too and then to follow up and look into all the resulting, inevitable crashes given the spaghetti pointers running all around. At least I used the opportunity to look also into the way that PS used to do "effects" - it's a useless pile of crap on top of some tidbits of usefulness from the underlying CS, not that it comes as any surprise. The surprising part was that "labels" (e.g. names of characters) used to be... "effects" and thus bringing in the whole crashing monster of stuff. Well, labels presumably will be useful so they are on my list to add as part of sorting out the 2D part of the interface but I refuse to bring in for this reason a whole set of useless "managers" and corresponding plugins and 1001 classes that do the same thing only now it's called labels and then it's called shadows and then again it gets its name changed so that a different "contributor" can sign at the top of the file. Such contributions that one is way, way better off without any of them.
At any rate, having now sorted non-moving items as well, the next step really has to be looking into the 2D GUI stuff more closely, hence... PAWS. There's no estimate I can really make (only heavy guesstimates) on how long it will take to make *that* into something useful but I'll keep to my heuristic that served me very well so far and I'll write up whatever stage I got to, whenever it needs unloading and certainly not later than in 2 weeks' time.
---
How? well, that's I suppose exactly how one ends up with all those .xml files just to tell what is in those other .xml files and then load some upfront and expect they know it all, too. Like will all madness, it's not that there's no logic involved, there is in fact plenty and at each step - it's only that the root is entirely misplaced. And yes, I am fully aware that those perceiving the roots of my own work as misplaced will therefore assign the madness label to my own work and my own self. A label though never did anything though, nor will it ever do by itself. ↩
Comments feed: RSS 2.0